Tooth Colored Fillings in Hutchinson, Kansas
Cosmetic Solutions for Cavities
If you have been postponing the fillings that you need because you are afraid everyone will see them, our office has the solution you need! Dr. Ringler and his team offer tooth colored fillings that look extremely natural and typically allow for less of the tooth to be removed. At Grant D. Ringler, DDS in Hutchinson, Kansas, we use tooth colored fillings to blend the beauty of cosmetic dentistry with the strength and function afforded by restorative dentistry.
Whenever you develop a cavity, you must have the decay removed in order to avoid further damage to the tooth. In the past, teeth were commonly repaired with silver fillings or gold restorations. Thanks to modern dental techniques and materials, teeth can now be restored to a more aesthetic and natural appearance with tooth colored fillings, also known as "composite resins."
During the 90s and early 2000s, composite resin materials were greatly improved to make them strong enough to restore teeth. The material is pliable until dried, allowing the dentist to mold the material into a filling and shape it to fit the tooth. Once the tooth colored filling composite resin material is in place, a curing light is used to quickly harden it, and we can then check the fit of your bite. The filling will be reshaped until the bite fits comfortably and functionally, and then you'll be on your way.
Tooth colored fillings are appreciated for their ability to beautifully restore decayed teeth, but they have other advantages too. For one, they're less likely to leak. Metal fillings react to changes in temperature, getting bigger and smaller when they come into contact with heat or cold. This can lead to frustrating leaks and damaged teeth. Composite resin tooth colored fillings, however, don't have this problem.
Tooth colored fillings are actually stronger than traditional silver fillings, and Hutchinson dentist Dr. Grant Ringler is proud to offer this service to his patients. There is no need to postpone your dental visits any longer! With tooth colored fillings, you will experience less sensitivity to hot and cold while restoring most of the original strength of your tooth. To learn more about this and other patient services available at Grant D. Ringler, DDS, call our knowledgeable team today!
Related General Dentistry Articles
The Natural Beauty of Tooth Colored Fillings
The public's demand for aesthetic tooth colored (metal free) restorations (fillings) together with the dental profession's desire to preserve as much natural tooth structure as possible, has led to the development of special "adhesive" tooth colored restorations... Read Article
What is Tooth Decay? – And How to Prevent It!
Tooth Decay is an infection, and many people don't realize that it is preventable. This article is the first in a series about tooth decay, perhaps the number one reason children and adults lose teeth during their lifetime. Explore the causes of tooth decay, its prevention and the relationship to bacteria, sugars and acids... Read Article
Tooth Decay – How To Assess Your Risk
Don't wait for cavities to occur and then have them fixed — stop them before they start. Modern dentistry is moving towards an approach to managing tooth decay that is evidence-based — on years of accumulated, systematic, and valid scientific research. This article discusses what you need to know to assess your risk and change the conditions that lead to decay... Read Article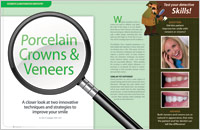 Porcelain Crowns & Veneers
A closer look at two innovative techniques and strategies to improve your smile. In many instances these two restorative techniques can produce nearly identical esthetic results, even though they are structurally different... Read Article
CALL OUR OFFICE
(620) 669-0835
888-OPN-WIDE
(888-676-9433)

Our Office Hours: Monday
8:30 a.m. to 5:00 p.m.
Tuesday
8:30 a.m. to 5:00 p.m.
Wednesday
8:30 a.m. to 5:00 p.m.
Thursday
8:30 a.m. to 5:00 p.m.
Friday - Closed
Like us on Facebook
Leave us a Review
Denture Attachment System
Cosmetic Analysis
Appointment Request