Fixed Bridges
Patient Services in Hutchinson, KS
If you are missing any teeth and are committed to maintaining good oral hygiene practices, then you may be a good candidate for a fixed bridge. A bridge is the natural solution for filling the space left in the mouth by missing teeth, and a fixed bridge can not only correct an altered bite but improve your chewing ability and speech as well. Without a fixed bridge, the space from the missing tooth can cause the surrounding teeth to drift out of position and leave the gums and teeth more susceptible to decay.
What is a bridge?
A bridge is a dental appliance that replaces the space left by one or more natural missing teeth, in essence "bridging" the space between two teeth. A fixed bridge is a nonremovable device that consists of three units: a pontic (false tooth) fused between two crowns (see diagram) that are cemented to abutment teeth.
Reasons for a fixed bridge:
Restore your smile
Fill space left by missing teeth
Maintain facial shape
Prevent remaining teeth from drifting
Restore your speaking and chewing abilities
Upgrade from a removable partial denture
What procedures are involved?
A traditional fixed bridge usually requires two or more visits to our office. During your first visit, Dr. Grant Ringler will reduce the adjacent abutment teeth that will act as anchors and make impressions to create the pontic (false tooth). In addition, Dr. Ringler will make a temporary bridge that can be worn for several weeks until your next appointment.
Once the impression has been sent to our high-tech dental laboratory, Dr. Ringler will carefully check, adjust and cement the bridge during a second appointment at our office. The total treatment time for receiving a fixed bridge is usually between two and four weeks, but can be longer depending on the unique situation.
Taking Care of Your Fixed Bridge
After you have gotten your new fixed bridge, it is more important than ever to maintain a strict regimen of brushing and flossing. If you do not control the build-up of plaque and debris, your teeth and gums can become infected. When this happens, you may face losing your new bridge and requiring further treatment.
By staying up with your dental health, your dental bridge will last as many as 8-10 years or even longer. Hutchinson dentist Dr. Ringler and his caring team are proud to offer this high-tech dental service and many more to patients of Grant Ringler, DDS.
Contact Hutchinson dentist Grant Ringler today!
Related Bridgework Articles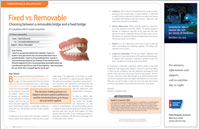 Fixed vs. Removable
For those patients who have lost all their teeth, but have not lost significant bone, a fixed bridge (permanent non-removable teeth) may be the treatment of choice since the new bridge is not needed for facial and lip support. However, not all patients are candidates for this treatment... Read Article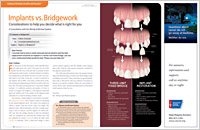 Implants vs. Bridgework
Considerations to help you decide what is right for you. However, a discussion with your dentist is necessary to discuss your specific situation. Please see your dentist to review all the risks, benefits and alternatives to determine which option is best for you... Read Article